It was a cold and wet day...very ominous...
The Captains getting ready for the coin toss...
The team's faithful supporters...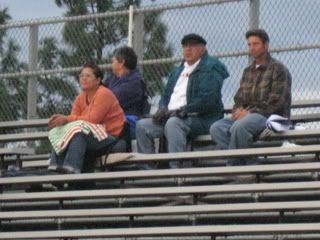 They splished, they splashed and they WON! WOO HOO! Our team is off to the playoffs! The first playoff game is this Saturday at 1:00 at Alemany HS! Wish us luck...if we win this game, we have another playoff game and then hopefully to the CHAMPIONSHIPS!
He started out dry and clean as a whistle!
He came out of the battle, dirty & muddy, ewww...gross. It has been a very exciting football season for Noah's team. It would be so cool if they took it all the way and won the championship! Wish us luck!