On Friday, Michelle & Ama went to Noah's school...Hesby Oaks in Sherman Oaks. His school had an "Young Authors Day" that day so, they decided to go and see what Noah's been up to. He wrote a book about Survival. He described to everyone how one can survive in the wilderness...Here are a some pictures of him reading to a group of kids and adults during the Young Authors Day...
What a nice smile :)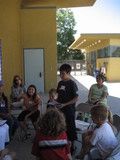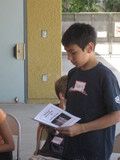 Thank God he's not shy!
WAY TO GO NOAH!